PRT Offers Waste & Recycling Programs for
Commercial
Municipal (State & Local)
Government
Residential
Trash/MSW (Municipal Solid Waste)
C&D (Construction & Demolition Waste)
Cardboard
Newspaper
Mixed Paper
Sorted Office Paper
Ledger Grades
Single Stream Recycling
Rigid & Film Plastics - #1 PET, #2 HDPE, #4 LDPE, #5 PP
Waste-To-Energy – Zero Waste Landfill Avoidance
& More – Get a Free Waste Audit TODAY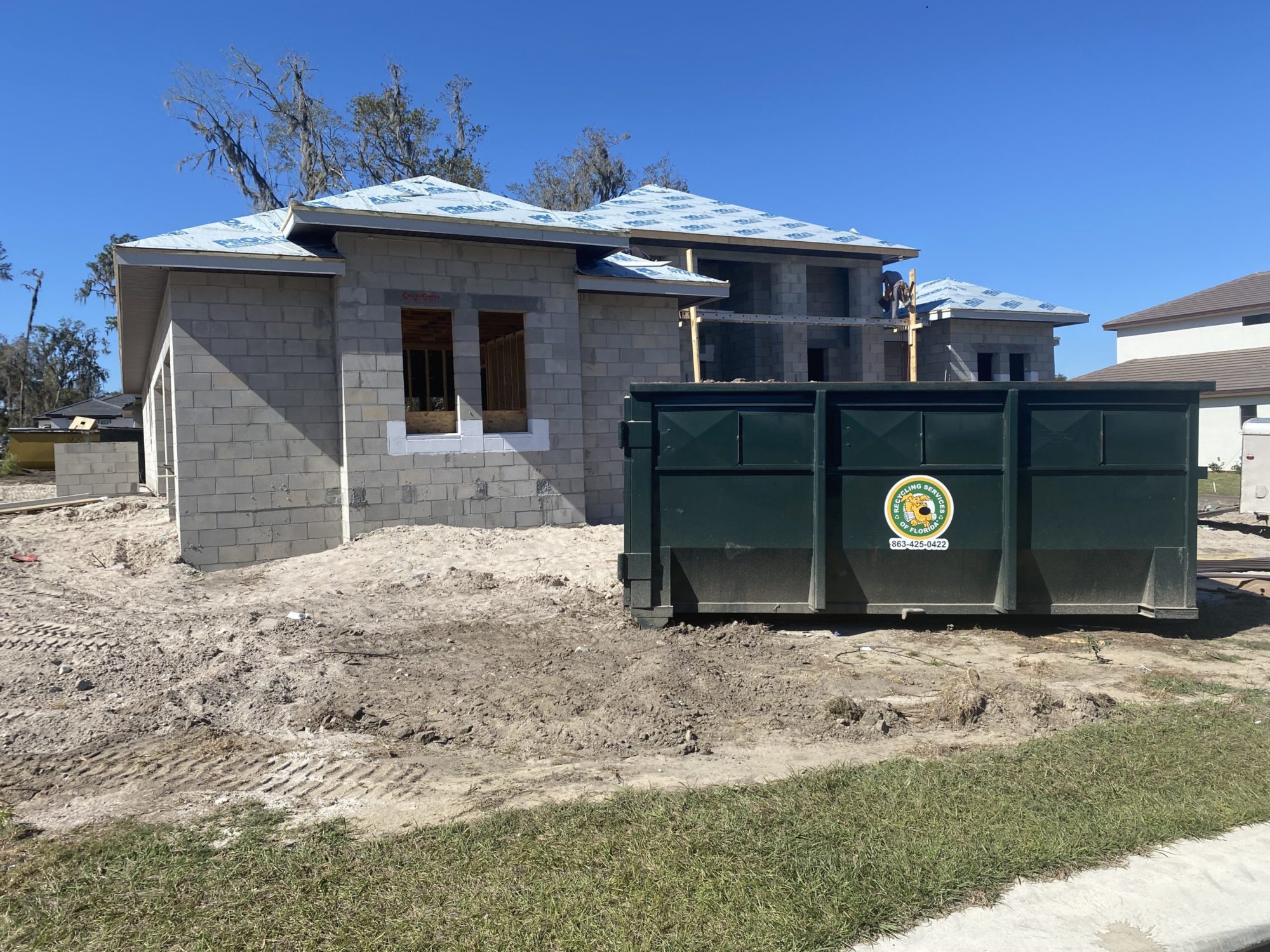 Roll-Off Container
We offer permanent roll-off services that set the industry standard for service excellence.
In most areas, containers are available in sizes ranging from 10 to 30 cubic yards.
Made from sturdy, high-strength steel and are maintained to ensure safety and environmental compliance.
Roll-off services are perfect for: construction & demolition (C&D) sites, manufacturing plants, refineries, warehouses, wastewater treatment plants and other companies that product large volumes of industrial and special waste.
Roll-off containers come in 10, 15, 20, 25 and 30 cubic yards.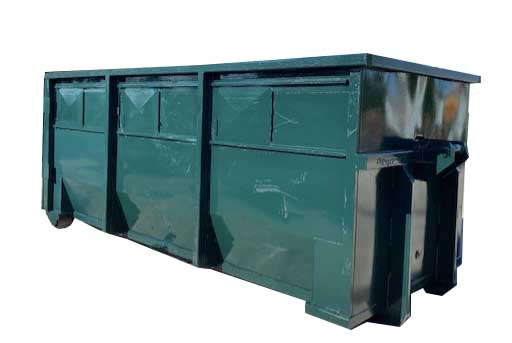 Right Size Roll-Off Containers
Our "Right Size" dumpster.
Smaller than a 30 but bigger than a 20.
Shorter than a 30 but taller than a 20 our right size dumpsters are the perfect in between size and priced competitively with a haul plus disposal rate that fits your budget.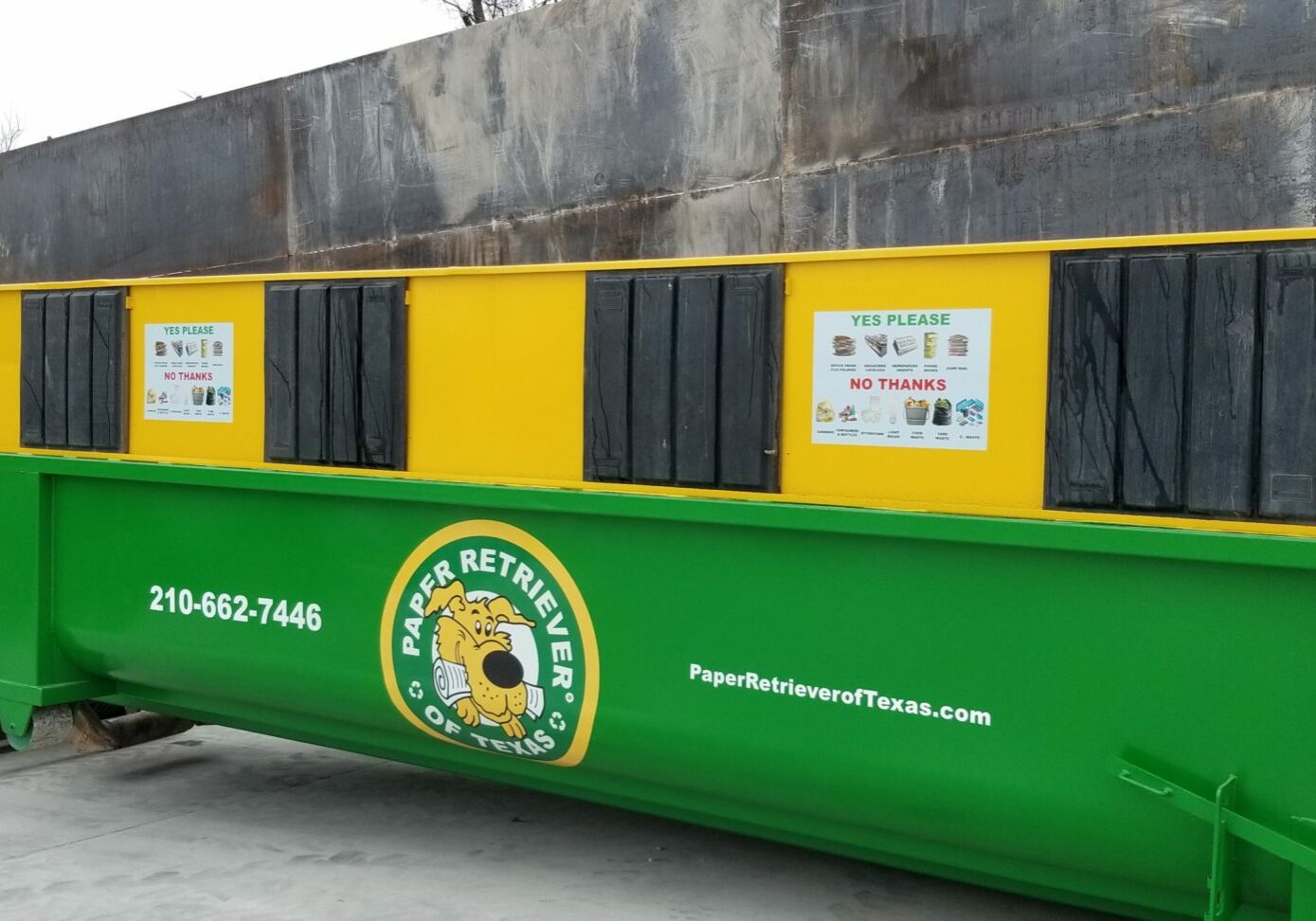 Enclosed Roll-Off Dumpster
Great for recycling without the investment of equipment.
Most customers use them for community drop off recycling programs.
The container has sliding windows for easy access.
Temporary Front Load Container
For construction projects, clean outs, small jobs with space restrictions, and DIY projects.
Flat rates with NO DISPOSAL.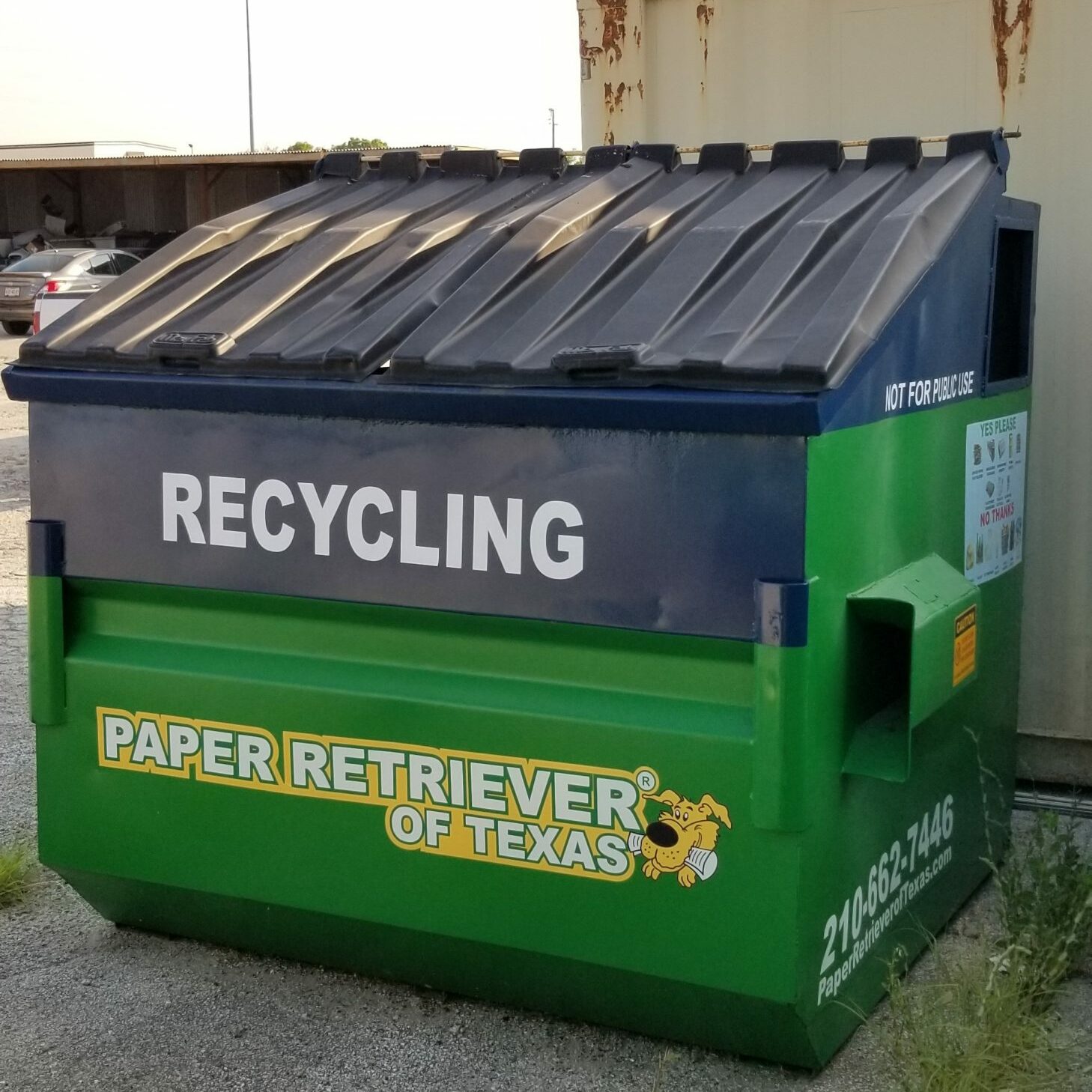 Front Load Container
Commonly used in industrial and commercial properties, designed for a permanent waste solution.
Ideal for any business or property that generates a large amount of waste on a weekly basis.
The main benefits are the same as a rear-load container, i.e. your waste is stored in a metal bin that is resistant to fire, rodents, insects, leaks and odors.
Bins are great for customers who have the space, and they do a great job of facilitating the separation of recyclables. They are also efficient, safe and reliable.
Unlike rear-load contains the driver does not have to exit the truck, the driver, instead, pulls up to service a front-load container.
Available in the following dimensions: 2 cubic yards (80" L x 41-1/2" W x 41" H), 3 cubic yards (80" L x 42" W x 42" H), 4 cubic yards (80" L x 79" W x 42" H), 6 cubic yards (80" L x 80" W x 53-1/2" H) and 7 or 8 cubic yards (82" L x 82" W x 74-1/2" H).
Stationary Compactor
Our Roll Off trucks service customers utilizing Stationary Compactors.
Often used for recycling cardboard, but can be used for dry waste.
The compactor is "stationed" onsite while the receiver box breaks away and is hauled to a dump site for waste or recycling.
Self-Contained Compactor
Our Roll Off trucks service customers utilizing SC Compactors.
Primarily used for wet material applications.
Mainly restaurants or food waste applications.
Bale Route
(Typically, Tractor with 53' Flatbed trailer with ramp for forklift)
A service type that is used to collect baled product ONLY, typically when the supplier or customer has the bales located at Ground Level.
Often serviced without any charges and is paid a certain % or $ value below the OBM/RISI Recovered Paper Market.
Tractor Trailer
(Typical Tractor Truck with Van Trailer)
Trailer service is performed via Staged Trailer or Live Load.
Sometimes customers have their own trailers and trucks and will deliver their material in.
When trailers are staged, they are often used as extended storage for a customer.
If a trailer is not moving more than twice a month, typically trailer rental is applied as the asset is not paying for itself and the customer is using the trailer for storage more than moving recyclable products.
Live loads are just how they sound, the truck shows up either on scheduled pickup time or first come, first serve basis and is live loaded by the customer.
LTL (Less than Truckload) is also an option but not frequently done in the Recycling Industry.
Box truck
(Varies but Typically 24' Straight Truck as pictured)
A service used to pick up less than full truckload quantities of material.
Box Truck services are always live load.
Most Box Trucks have liftgates but typical application is for Dock Height material collection.
Material is typically skidded/palletized or is in various Material Handling Equipment.
Box Truck Routes may do some "Milk Route" type services but often one customer will store just enough at their location to fill the truck.
DO YOU OWN a Box Truck or Tractor Trailer? Haul your own recyclables? Bring them to us and get top dollar!
Governments & Industry
Paper Retriever of Texas services public entities and private industry. We specifically design recycling programs which may include front end loader bins, roll-off bins, flatbeds, tractor-trailers, spotted trailers, or live loads. We also provide one time pickups or long term commitments. PRT serves:
Contractors
School systems
Churches
City, County, and State programs
Commercial/Industrial operations
Commercial haulers
Publishers
Small and Large Businesses
Industrial Settings
Curbside Processing
Paper Retriever of Texas processes dual and single stream curbside material in some locations.
Internal Collection Containers
Gaylord
Good for storing lighter materials, i.e. shrink wrap, plastic bottles, newspapers, supersacks, etc.
Can collapse for warehouses that have smaller storage areas while not being used.
Gaylords typically need a pallet underneath so a forklift can transport it.  It can be loaded side-by-side on a trailer.
Usually, they are not double stackable because of the weight of the pallet, but can be done if weight of material is light enough.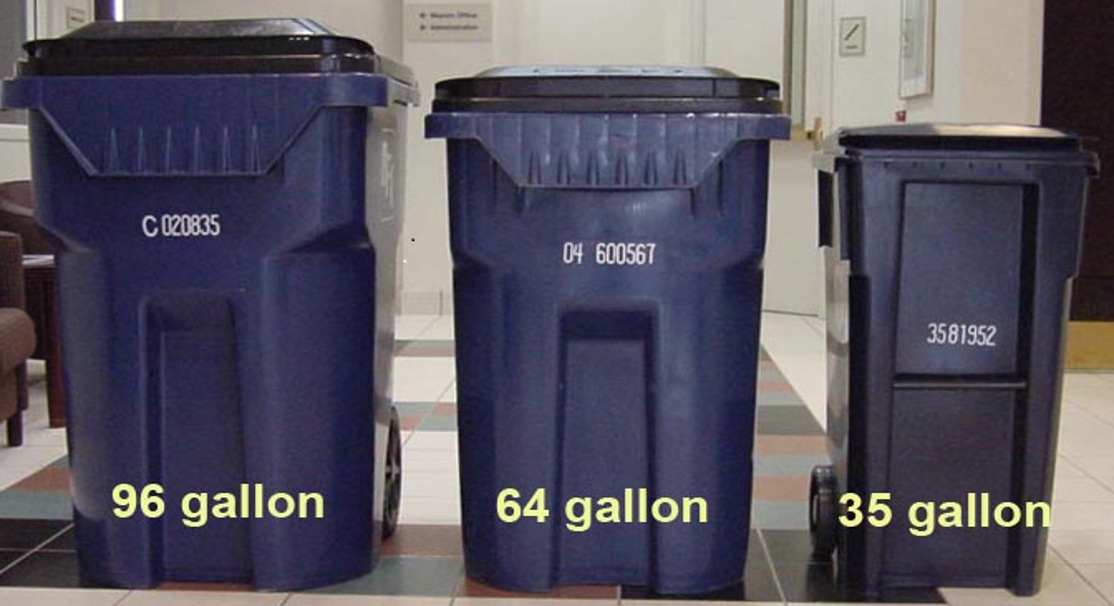 Toter
Has two wheels so it can be transported to different areas.
It also fits through doorways and elevators for easy transportation, i.e. multiple rooms or multiple floor buildings to bring to loading / dock area.
They are typically used in hallways, breakrooms and copier rooms.  Toters come with a flip open lid to protect contents if used in an outdoor environment
Available in 35, 64 and 96 gallon capacities.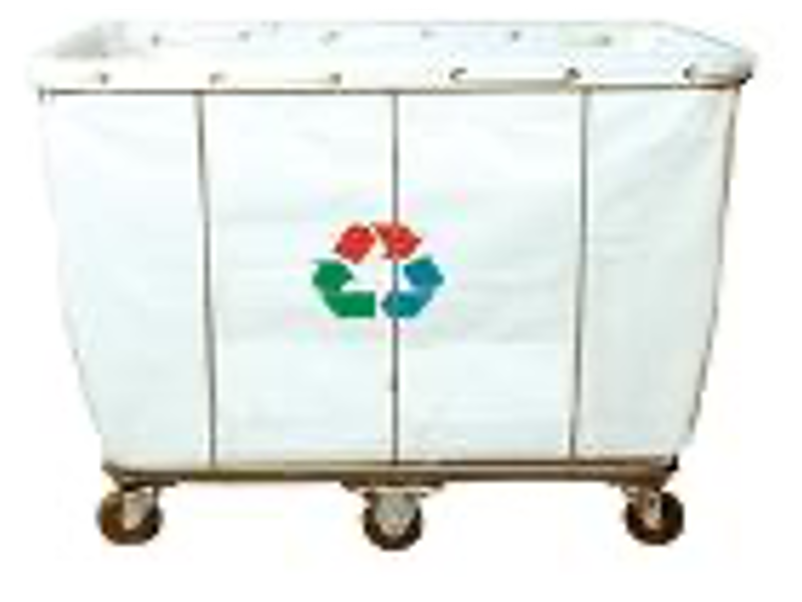 Hamper
Hampers are usually made of plastic or canvas
Made with wheels for easy transport.
Dimensions are 48" L x 48" W x 36" H.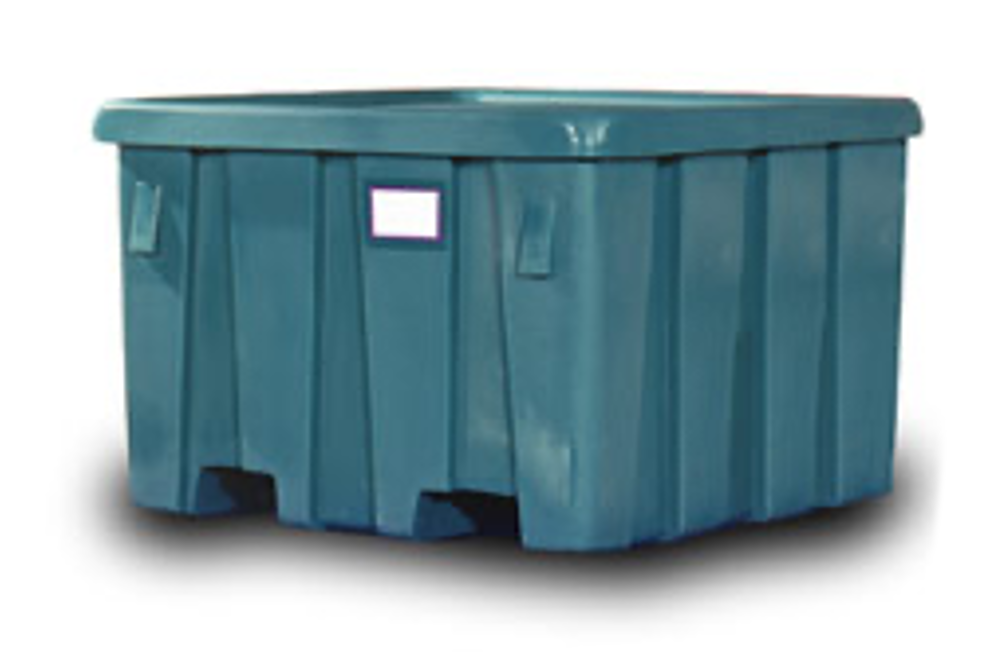 Tub
Good for storing heavier materials, i.e. glass, printers mix, sorted office paper, and mixed paper.
Used typically in warehouse environments where space is available.
Can be used in outdoor environments where product can be stored due to plastic (HDPE) construction.
Has built-in grooves so a forklift can pick it up without a pallet underneath. It can be loaded double-wide in a trailer
Can be stacked.
It also has a plastic top that will protect the contents, if stored outside.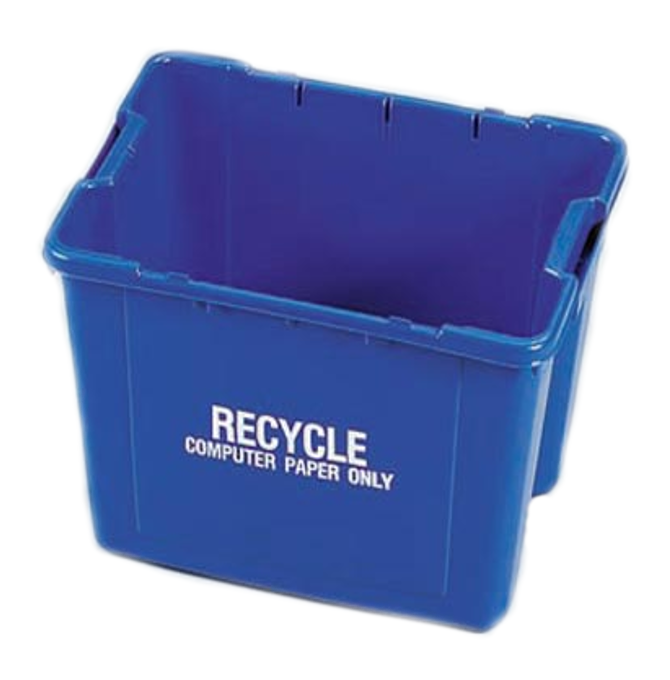 Large Desk Side Recycle Bin
Made of cardboard and has built-in handles for easy maneuverability.
It is good for areas where there is not a lot of space, i.e. breakrooms, small offices, copier rooms, and hallways.
Due to construction, it is typically best for light materials (such as copy paper and sorted office waste).
It can be fitted with a plastic liner bag for breakroom/lunchroom environments if food/beverage cans will be collected.
Usually, these are dumped into larger collection bins (i.e. tubs, gaylords, toters).
Small Desk Side Recycle Bin
Same as Large Desk Side Bins, but can be put next to/under a desk for easier daily collection.